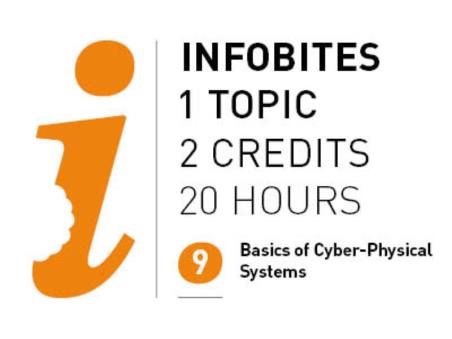 22 Okt 2019 21 Nov 2019
Basics of cyber-physical systems [InfoBites]
Why is everybody suddenly talking of cyber-physical systems? Come and learn about it!
Referent Stefano Borgo, Institute of Cognitive Sciences and Technologies (ISTC)
Datum 22 Oct 2019 - 00:00 21 Nov 2019 - 23:59
Ort
Room BZ E4.20, Universitätsplatz 1 - Piazza Università, 1, 39100 Bozen-Bolzano
Mehr Informationen Federica Cumer
[email protected]

Beschreibung
Lecturer: Stefano Borgo, Institute of Cognitive Sciences andTechnologies (ISTC)
After attending this course you willknow about:
What Cyber-Physical Systems are andwhat is new about them
Interactions in Cyber-Physical Systemsand in Socio-Technical Systems
The European view and goals in thearea of Cyber-Physical Systems
Furthermore, you will understand whytoday production systems focus more and more on the connection among objects,information and computation, and how they aim to include the human factor inthe picture.
Prerequisites: none.
Registration:
Limited places (20) – register a soon aspossible!
By 10 October 2019, send an e-mail to [email protected] including:
a presentation of yourself
the detail of your skills incomputer science
your motivation for attending thecourse