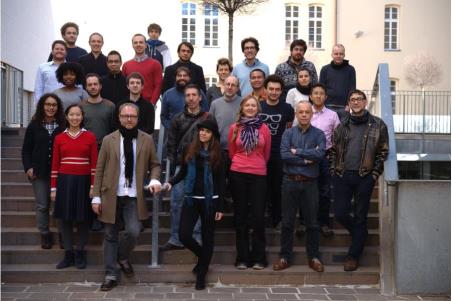 UniNews
At the forefront of research on Knowledge Representation, Database technologies and AI
Some of the leading world conferences recently granted awards to three research groups from the KRDB Research Centre for Knowledge and Data for their cutting-edge works.
Conceptual and Cognitive Modelling, Process-aware Information Systems, Intelligent Integration and Access to Data and Foundations of Database Technologies. These are the areas of Computer Science where researchers from the Faculty of Computer Science - the
KRBD
Research Centre for Knowledge and Data - are
constantly thriving
. The recognition three of their papers earned in the last few weeks at some of the most renowned conferences worldwide, speak for itself.
Julien Corman and Ognjen Savkovic
won the best paper award at
ISWC 2019
, the most important world conference on the "semantic web". ISWC is also ranked as one of the best conferences in computer science as a whole and had more than 300 participants.the most important international conference on the "semantic web". ISWC is also ranked as one of the best conferences in Computer Science as a whole and had more than 300 participants. "Our
paper
is about Knowledge Graphs. For example, Google is using Google Knowledge graph to enhance its Google search and Amazon is having a product knowledge graph to enable easier search for its products. However, data quality is crucial for the successful application of Knowledge Graphs. In particular, W3C (organization for web standards such as HTML) has last 2018 introduced SHACL, a formalism for schema description of the knowledge graph. Still, the efficient implementation of SHACL remained open. We addressed this problem by translating SHACL validation into query answering over graph databases. This work has particular practical value and we already attracted the attention of several companies that are interested in implementing SHACL algorithms in their commercial products", explains Savkovic.  
Diego Calvanese, Evellin Cardoso and Marco Montali
won the best paper award at
EDOC 2019
. With their
paper
, they repeated their big achievement of Marco Montali's last year at the same conference, the international flagship conference on enterprise computing. In the research they presented at EDOC2019, they provide a solution for companies based on the Ontop technology, which can be used, for instance, by online selling firms who face the following problem: how can I manage to translate contract terms into a language that can be understood by machines and vice versa? And how can the resulting knowledge be used to inspect information systems tracking the evolution of online orders, so as to reconstruct the state of such contracts (e.g., see which ones have been violated, and which ones suitably honored)?To solve this kind of dilemma, they created, say, a filter that lets the user extract low-level data form databases, and transform it into human and machine-processable information regarding contracts. 
Last but not least
Giancarlo Guizzardi
, coordinator of the research group on Conceptual Modeling – a discipline that aims at understanding the best possible way to turn real-life objects into information that can be easily and usefully read by computers and humans – received the best paper award at
ER 2019
, the peak conference on conceptual modeling. Prof. Guizzardi is the "philosopher" among the computer scientists in the Faculty. An expert in Conceptual Modeling, Giancarlo Guizzardi's research field is Ontology, that is how we – normally humans but, in the case of computer scientists, machines as well – define things that exist in the real world so that we all share a common understanding of an object. 
This question relates to innumerable domains and cases. For example: in the case of the fall of the Twin Towers, are we talking about a single catastrophic event or two? The question is not futile at all because the compensation insurances would pay vary accordingly. Such problems can be solved through conceptual modeling and reasoning. Guizzardi's work aims at making this complex knowledge explicit, in a way that puts a machine in the condition to get and use this human knowledge. In his
paper
, he proposes an ontological analysis of the notion of events (e.g., musical performances, football games, speeches, as well as the events related to September 11). "This analysis is then used to propose a language for properly modeling events, their properties, their participates and their relation to time", says Guizzardi.
(zil)