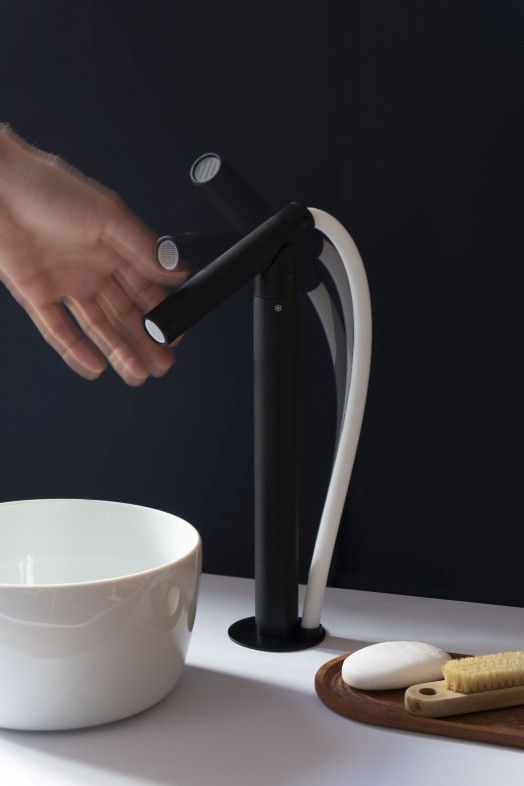 Einblicke in Design und Kunst an der unibz: Diplorama! is back
Beyond Surfaces – hinter Oberflächen – wird in diesem Jahr bei den Abschlussarbeiten an der Fakultät für Design und Künste geblickt. Wie die Absolvent*innen dieses Jahresthema umsetzen, kann am 18. und 19. November entdeckt werden. Direkt im Abschluss an ihre letzten Prüfungen präsentieren die Studierenden in der dritten und letzten Ausgabe der diesjährigen Diplorama! Verwandten, Freund*innen, aber auch allen Kunst- und Designinteressierten jene Arbeiten, die den Abschluss ihres Studiums krönen.
Wer aufmerksam durch die Stadt Bozen geht, erhält auf diversen Plakaten bereits einen kleinen Vorgeschmack auf die Ausstellung, die am kommenden Freitag und Samstag an der Fakultät für Design und Künste stattfindet: Diplorama! 22.3, die letzte diesjährige Ausgabe der Ausstellung von Abschlussarbeiten der Design- und Kunststudierenden. Seit 2022 wird die traditionelle Schau drei Mal im Jahr, nach jeder Abschlussprüfungssession, zu einem Jahresthema veranstaltet. "Die Projekte, die in dieser Diplorama! ausgestellt werden, sind in Verbindung mit einem wichtigen Schritt zu sehen: die Studierenden unserer Fakultät sind nach der Pandemie wieder physisch an die Universität zurückkehrt und können nun von hier aus die Welt beobachten, die sie umgibt", erklären der Dekan Prof. Nitzan Cohen und der Prodekan für Lehre, Prof. Roberto Gigliotti. "In einem Zeitraum von 14 Wochen haben sie Projekte entwickelt, die zeigen, wie junge Designer*innen und Künstler*innen imstande sind, aktuelle Themen einer sich rasant verändernden Umwelt und Gesellschaft kritisch aufgreifen und darzustellen."
Kuratiert werden die diesjährigen Diplorama!-Ausgaben von Gianluca Camillini. "Auch diese letzte Session macht Mut auf eine bessere Zukunft", verspricht der Forscher und Dozent der Fakultät für Design und Künste, "denn sie zeigt einmal mehr, dass Kunst und Design einen wichtigen Beitrag zur Lösung der großen Herausforderungen unserer Zeit leisten können." Eine Besonderheit des Design- und Kunststudiums an der unibz, mit der die Entwicklung solcher Lösungen gefördert wird, ist laut Camillini die Methodik des "Learning by doing". "Unsere Studierenden lernen, in dem sie machen - und dafür konkrete und umsetzbare Anregungen in Hinblick auf aktuelle Fragestellungen von globalem Interesse erhalten."
Ein konkretes Beispiel dafür? Faucet Redesing von Marco Ciacci, ein Projekt, das einen ganz gewöhnlichen Gebrauchsgegenstand, den Wasserhahn neu denkt – mit dem Ziel, seine Funktion und tägliche Nutzung am Prinzip eines verantwortungsvollen Konsums und nachhaltiger Gewohnheiten auszurichten. Der Fokus auf aktuelle ökologische und soziale Herausforderungen findet sich noch konsequenter in den Masterarbeiten des Studiengangs in Eco-Social Design. "Hier finden sich konkrete Inputs für eine öko-soziale Transformation: indem beispielsweise Definitionen von Nahrung, Abfallbewirtschaftung oder Trauer hinterfragt werden, unser Blick auf Geschlechtergleichheit, Inklusion und transformative Arbeit erweitert wird oder dargestellt wird, wie wir uns in einer Welt multipler Krisen künftige kollektive Narrative vorstellen können", sagt Professorin Secil Ugur Yavuz, die neue Studiengangsleiterin des Masters in Eco-Social Design. Eines der vielen interessanten Projekte seiner Absolvent*innen? EATING SCOBY (Symbiotic Culture Of Bacteria and Yeasts) von Emma Sicher. Ein Projekt aus dem Bereich Food Design, in dem das Potenzial erforscht wurde, das in der Fermentation von Rückständen der lokalen Obst- und Gemüseverarbeitung liegt – vom gesundheitlichen Effekt auf unser Mikrobiom über die Nachhaltigkeit industrieller Produktionssysteme bis hin zu einer konkreten Perspektive für mehr Resilienz im Sinne des Konzepts der Glokalisierung.
Die Ausstellung wird am Freitag, 18. November um 18 Uhr eröffnet und bleibt am Samstag, 19. November, von 11 Uhr bis 17 Uhr in den Räumlichkeiten der Fakultät für Design und Künste, Universitätsplatz 1, Bozen, für alle Interessierten frei zugänglich.
(su)