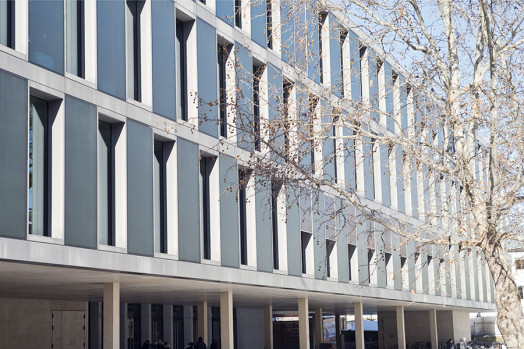 Vaccination hubs at unibz
In order to facilitate access to vaccination for the university community, vaccination hubs are being set up at the Bozen-Bolzano and Brixen-Bressanone campuses in collaboration with the South Tyrolean Sanitary Service SABES. The offer is open to all citizens.
Since 1 September 2021, it has been compulsory in the education system to show the Green Pass. One way to obtain this is the corona vaccination.
The new semester begins on 27 September, which is why the Free University of Bozen-Bolzano would like to offer its students, professors and members of the administration the opportunity to be vaccinated without having to make an appointment. As unbureaucratically as possible and above all in the form of "Open Vax Days", i.e. without an appointment, the vaccination hubs will be set up on the campuses in Brixen-Bressanone and in Bozen-Bolzano in a cooperation project with the South Tyrolean Sanitary Service SABES and the municipal administrations of Bozen-Bolzano and Brixen-Bressanone.
The vaccination hub in Brixen-Bressanone will be open from Wednesday, 8 September on Wednesdays from 8.30 a.m. to 12.00 p.m. and from 1.30 p.m. to 7 p.m. until 13 October. It is located in the foyer/main entrance of the university.
A new feature of the Open Vax Day from 29 September is also a musical supporting programme: From 5 to 7 p.m. on Vaccination Wednesdays, South Tyrolean bands will perform on the square in front of the Brixen-Bressanone Campus. On 29 September a 3-man line-up of the band "Endorphine" will start, followed on 6 October by the band "Hush Puppies" and at the last Brixen-Bressanone Open Vax Day for the time being on 13 October there will be a performance by "The Small one Band".
The vaccination hub in Bozen-Bolzano will be open from Thursday, 16 September every Thursday from 8.30-13.00 and from 14.00 - 16.00 up to and including 14 October. It is located in seminar room C0.04, entrance unibz-Darwinplatz (former nostril test station). Students in Bozen-Bolzano can also make use of the Open Day of the vaccination centres in Bozen-Bolzano every Monday: until 16 September in the Bolzano Exhibition Centre, from 17 September in the Bolzano Hospital.
The Green Pass is valid as early as 15 days after administration of the first vaccination dose. 21 days after the first vaccination, the second vaccination can be administered with the Pfizer vaccine.
With the establishment of these vaccination hubs, the university management wants to facilitate access to the university and make a contribution to an academic year in presence: "Therefore, our thanks go to the South Tyrolean Sanitary Service, which made this offer possible in a very short time."
(vic)