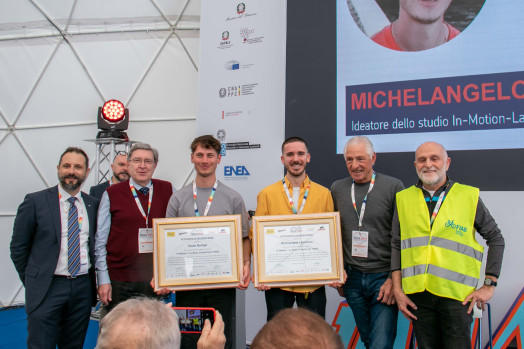 "La Dolce Ciclovita per l'Italia"
With "La Dolce Ciclovita per l'Italia" the design students Michelangelo Lamonaca and Vivien Art Rustige have got a special prize from Isola Ursa institute at the Fair Klimahouse for their thesis project on sustainable cycling mobility.
In occasion of the Fair Klimahouse 2023 at the fiera Bolzano, ISOLA URSA (Agenzia per la diffusione della Sostenibilità Ambientale) awarded two students of the Master Eco-Social Design at unibz with a distinction for their project. The award was presented by Enrico Giovannini, former minister for sustainable mobility in the government Draghi and president of Avsis (Agenzia per lo sviluppo sostenibile), and the Italian cycling champion Francesco Moser.
"Our project aims to foster cycling culture and to address the importance of continuous, safe and accessible cycling infrastructure in Italy", explain Michelanagelo Lamonca and Vivien Art Rustige. In fact, "La Dolce Ciclovita per l'Italia" is a participatory and joint bike journey through Italy. In September 2022, an international team of four students cycled 1.700 kilometres from the Northern Italian border at Brenner to the southernmost point of Apulian Salento, Santa Maria di Leuca, known as the "heel of the boot".
"We want to raise awareness for the importance of sustainable mobility, and foster cycling culture in Italy. The bicycle is the medium to make utopian ways in order to move and live more real by reflecting and rethinking it together. Based on participation at every phase and on open invitation, more than two hundred citizens joined a common cycling movement: Hopping on and off the journey, discussing fossil fuel dependence, climate change impacts, and social effects of the car-centred society."
Connecting North and South
Through participatory mapping exercises based on local knowledge, lacking pieces of infrastructure were mapped to propose a potential new cycling route to connect the North and the South of Italy. A trans-Italian network was built by connecting local citizens with various professional stakeholders and official public administrations to create an alliance for a transformation toward a more sustainable mobility system.
The project can be visited today at Diplorama!
(vic)