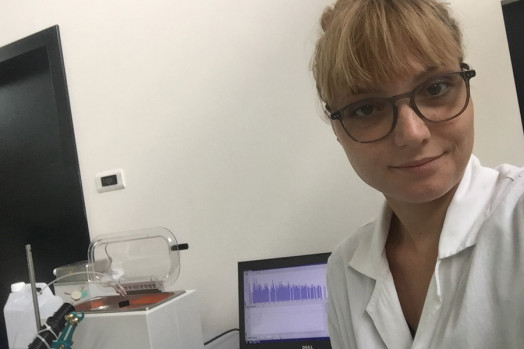 "A nice result, considering you are a girl"
#unibzcareers: In January Martina Bodner obtained a PhD at the Faculty of Science and Technology, started a SciComm Blog and just self-published her own science-themed coloring book for children.
Martina Bodner was born and raised in Bolzano before she moved to Padova to get her Bachelor's and Master's degrees in Biotechnology. After that she seized the opportunity to work as a research assistant at the University of Padova for a year before moving back to Bolzano in 2016, where she started her PhD at the Free University of Bozen-Bolzano under the supervision of Prof. Matteo Scampicchio at the Faculty of Science and Technology. "My PhD was unfunded, so besides my work as a researcher I also worked before as science teacher and then as lab technician. During my PhD I had a daughter and I graduated in January 2021 in my kitchen." And last but not least, she started a popular blog, "SciComm for everyone" and just self-published her own science-themed coloring book.
How come you started the "SciComm for everyone" blog?
I've always had a passion for science communication, and I've always wanted to talk about science in as many ways as possible. During my maternity leave I decided to start my own blog. www.scicommforeveryone.com. The name of the blog "SciComm for everyone" defines my mission: to demonstrate that science and science communication are for everyone! You don't need to be a scientist or have a degree to be passionate about science and to be curious about the world.
How did your motherhood influence your view on science?
When I was a Bachelor student, a physics professor always asked me questions because I was "the only blond girl in the class". When I aced my math exam the professor told me that it was "a nice result, considering I am a girl".
I believe that every woman who chooses a "male career" experienced these kinds of comments. Since I became a mother of a daughter, I felt an even bigger responsibility of being an example and showing a diverse representation of what a scientist can look like. I wanted to show her and other girls that science welcomes everyone and every person can contribute to it!
In your current SciComm post you talk about the "chemistry of holiday season". What lays behind this magical period?
I love to show people that chemistry is everywhere. Every smell, every flavor, every material we like is made of chemical molecules. I think that when we think about Christmas, we all can imagine a smell or a flavor that we love. For example, the typical aroma of mulled wine is conferred by eugenol and cinnamaldehyde. Eugenol is found in cinnamon, nutmeg, bay leaves, it smells like cloves. Cinnamaldehyde is characterized by a pungent, cinnamon-like odor. If we close our eyes and try to imagine the smell of pines, we are imagining the scent of ⲁ-, and β-pinene, which are responsible for the fresh, woody and turpentine-like odor of these trees.
Your mother tongue is Italian. What made you choose English as a blog language?
When I started blogging and posting on Instagram, I asked myself in which language it would be best to communicate. I chose English, although Italian is my mother tongue, because my mission is to make science accessible to everyone. I thought that English is one of the most spoken languages in the world and thus it would be a good choice to communicate in English to be able to reach as many people as possible.
I recently came across a paper by Màrquez and Porras "Science Communication in Multiple Languages Is Critical to Its Effectiveness", which made me question my choice. Since a couple of weeks, I started to publish my posts on Instagram both in English and in Italian to reach the Italian people, who don't speak English, but have an interest in science.
How time-consuming is your blog?
A lot! I usually get ideas for new articles from everyday life, or something that I read, or a discussion I had with a friend, or a curiosity of mine.
Then, I search scientific papers on the topic, and I read about 10. I write the article for my blog, insert pictures, figures and/or drawings.
When I publish the article, I link it to my Twitter and LinkedIn profiles. Afterwards, I prepare the post for Instagram, adjusting the content for the slides of the carousel and translating the text in Italian. I prepare the caption for Instagram and look for the hashtags to use. Once it is published, I reply to the comments and DMs.
I publish between one and four articles per month, accordingly to the time I can dedicate to this project.
In which research projects are you involved now at the Faculty of Science and Technology?
I don't work at the Faculty of Science and Technology anymore. Two weeks before I delivered my daughter, I became a tenured science teacher at Polo Economico "Battisti" in Bolzano. I finished my PhD while working full time as a teacher and defended it during the lockdown of January 2021.
You just published your first children's coloring book – what did you come up with the idea?
About one year ago my partner and I started buying coloring books for our daughter. We bought coloring books on animals and on dinos, but nothing was available on science. As an educator, I strongly believe that children can understand everything, if explained with the proper language and level of complexity. And so, I self-published my own science-themed coloring book! "Colora la scienza (draw science – Wissenschaft färben)" is a book dedicated to all children who are passionate about science. The book consists of 28 scientific-themed drawings starting from the microscope, passing through fossils and the coral reef up to the periodic table and volcanoes. Each drawing is accompanied by an explanation in Italian, German and English to encourage multilingualism and school inclusion. It is available on Amazon.
You say about yourself that you are an advocate for more women in STEM, also for mental health awareness and autism awareness. How can you stand up for it in every day's life?
I am an advocate for more women in STEM because we need more women involved in scientific disciplines. Research from the National Girls Collaborative Project shows that until K-12 (before the ending of high school) there is no difference in the achievements in math and science between boys and girls. Things change at university level. Although US women hold about 57% of all bachelor's degrees, only a few of them have a degree in STEM (Science, Technology, Engineering, Mathematics). One of the barriers keeping girls away from STEM careers is stereotype. It is important to show girls that they can become a scientist if they want to. That is why in my blog I interviewed more than 50 women working in different STEM fields, sharing their unique and inspiring stories.

I am also an advocate for mental health because, especially in the academic world, overworking, not taking time off, working during holidays are appreciated and approved behaviors. When I was a pregnant PhD student my mother died and the people around me didn't want me to take time off to mourn. That was the moment I decided to fight to raise awareness on mental health.

Finally, I am an advocate for autism awareness because, after years of suspicions, I finally received my autism diagnosis during the last year of my PhD, when I was pregnant (yes, 2019 has been a year full of events for me ;-)). Thanks to the diagnosis I learned to better understand myself and my needs.
Every day I am an autistic woman in STEM, struggling with my mental health and every day I advocate for more women in STEM and to raise awareness towards mental health and autism.
What do you like best in your academic career?
I think that being a researcher is one of the best jobs in the world. You are actually paid to be curious, to do experiments, to think and read, to discuss ideas with your peers - observe the world and be amazed by it!
(vic)