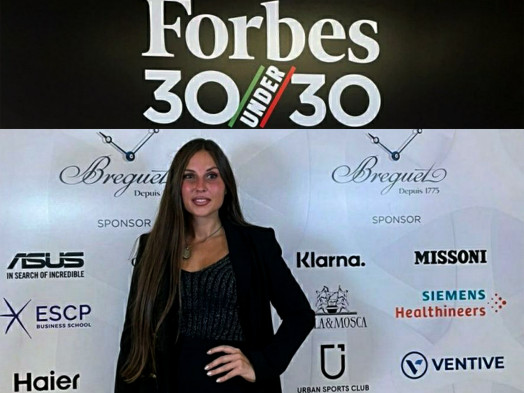 Alumna Selena Milanovic among the Forbes Italia Under 30 Top Talents
#unibzcareers. A mechanical engineering graduate from the University of Bozen-Bolzano, Milanovic was selected as a Forbes Under 30 in Science.
Selena holds a prestigious doctorate in biomedical engineering from Oxford, and a master's degree also in biomedical engineering from Vienna and Brno, but it all started in Bozen-Bolzano, where she completed her first undergraduate degree in mechanical engineering. Selena Milanovic, from Meran-Merano, is a living example of Steve Jobs' quote "Stay Hungry" and is certainly a role model for many girls who could follow her, committing themselves to a field such as engineering, which is still male-dominated.
Being chosen by Forbes among the 100 Best Young Italian Talents of 2022 is one more step in her professional and personal journey. Humbly, Milanovic does not interpret this latest recognition as a point of arrival but as a powerful push forward towards further development. "Joining the Forbes Under 30 community is without a doubt a tremendous honor. It is not only a unique opportunity to expand my network in realms beyond the sciences, but also a chance to build meaningful relationships with young ambitious people who, like me, want to define the future of our country", says the young professional who, after experiences as an advisor to the British government during the pandemic, currently works as an expert consultant for Siemens, one of the leading industries in the biomedical sector.
The award ceremony for Italian talents Under 30 who are committed to changing the world was held last July 14th in Milan, at the Principe di Savoia Hotel. "I had submitted my application last year, which consisted of a presentation of achievements of my work, along with some essays outlining my future goals", she explains, "I was obviously hoping for it but I was certainly not taking the selection process for granted. I didn't hear anything for months and when the official invitation arrived I was naturally overjoyed. Even though I currently live in Germany, I promptly booked a train to Italy to attend the gala evening".
What convinced the Forbes jury to name this young South Tyrolean woman among the best prospects of her generation, according to her, is her determination and ambition not to keep her professional activity confined to the technological sphere – which, in itself, is natural for an engineer – but to extend it, thanks to her multidisciplinary education and the continuous cross-cultural dialogue she engages in with the aim of facilitating the exchange of knowledge and innovation between countries. An activity she is already fully committed to by traveling to Saudi Arabia and Pakistan as a "medical technology ambassador".
"Inevitably, when traveling to different continents, one is confronted with new ways of approaching business and even a different ethical stance, which is particularly relevant in the healthcare sector. Yet, it is precisely this novelty, along with the mutual interest in learning from each other, that can be the spark needed to collaborate and innovate", says Milanovic, "Change in the healthcare sector is imperative, with the consolidation of Artificial Intelligence-based medical solutions and the emergence of the metaverse, the next few years will be transformative, ultimately yielding an open space for academic, business and international cooperation".
Certainly a big challenge, but one that Selena Milanovic is eager to tackle.
(zil)