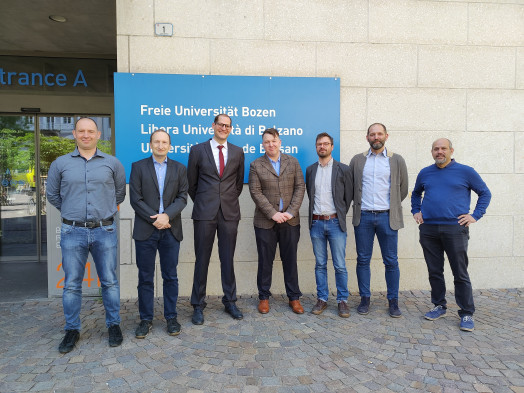 The optimal design of mechanical systems
As its first graduate, Veit Gufler finished the PhD program in Advanced Systems Engineering. For the last three years he has concentrated on the development of advanced and intelligent systems.
Gufler himself has graduated from the Free University of Bozen-Bolzano with a bachelor's degree in Logistics and Production Engineering and a master's degree in Industrial mechanical Engineering. "My interest in the PhD and in research in general was awakened during my master's degree. My thesis at the time was about the optimal design of mechanical systems with numerical design optimisation. I was able to expand and deepen this topic during my doctorate and it still fascinates me today."
The international doctoral program in Advanced-Systems Engineering trains a new generation of researchers who focus on mechanical and manufacturing systems, automation and electronic systems and computer systems to conduct independent research in the fields of advanced systems engineering and gives them the opportunity to exchange their knowledge with national and international research centres and industry. For his own career Veit Gufler is still uncertain: "I can well imagine continuing my academic career; at the same time, I don't rule out a move into industry."
His dissertation focuses on the design and optimisation of mechanical systems. Specifically, it is about flexible multi-body systems for modelling mechanisms consisting of several rigid and flexible components, which relate to mechanical joints. The aim of his thesis was to develop a method for the design optimisation of such systems. A numerical algorithm is used to minimise or maximise an objective function by changing the design parameters, considering mathematical and physical constraints. The method was validated with several application examples: a crank mechanism, a wing of a glider and a computational cleaning mechanism for a hydroelectric power plant.
How was it attending the whole doctoral program in English? "On the one hand, I find that communicating in a language that is not one's mother tongue always involves an additional difficulty. On the other hand, I see the mastery of an additional language as a great advantage and therefore I appreciate the use of English as an incentive rather than an obstacle. For those who decide to do a doctorate, I recommend good planning and a systematic approach."
Veit Gufler successfully defended his thesis at the beginning of May. Looking back, his research stay at the Technical University of Munich and the participation at several international conferences gave him a great insight into the world of science in general.
Pictured from left: Prof. Dario Richiedei (University of Padova), Prof. Johannes Gerstmayr (University of Innsbruck), Veit Gufler, Dr.-Ing. Erich Wehrle (unibz & Collins Aerospace, his doctoral supervisor), Prof. Paolo Boscariol (University of Padova), Prof. Renato Vidoni (unibz, his second doctoral supervisor) and Prof. Karl von Ellenrieder (unibz, coordinator of the PhD program in Advanced Systems Engineering).
(vic)