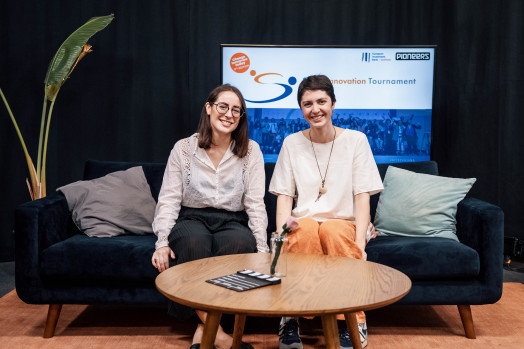 Start-uppers competing in Vienna
Hale, the start-up project by unibz student Vittoria Brolis together with a student from Trento, was nominated one of the 15 best social enterprises of Europe by the EIB. Today, Thursday 29th September, Hale is competing in Vienna.
Gaia Salizzoni and Vittoria Brolis, founders of Hale, were selected by the European Investment Bank Institute (EIB) to participate in the Social Innovation Tournament, a programme that selects the best social, ethical or environmental impact companies each year from more than 27 countries.
The impact the two female entrepreneurs want to make is clear:
to help those suffering from conditions of chronic pelvic pain, such as vulvodynia and endometriosis, to take care of their mental and sexual well-being.
"Conditions affecting the pelvic-genital area are extremely under-researched and underfunded. Sufferers face years of taboos, non-diagnosis, high out-of-pocket costs, and poor treatment and therapy;
furthermore, there are scarce targeted therapies and solutions for these conditions. Yet 26% of the female population suffers from it," explains co-founder Vittoria Brolis.
We reach Vittoria in Vienna, as Hale is competing today, Thursday 29th September with other social enterprises in Europe during a public presentation. The prize, which amounts from €10,000 to €75,000, will be used to finance the scientific and technical support of the project. To win, the public vote will also be needed, who will be able to watch the presentation live and vote for the project online from 15:00 to 19:00 on the same day, on the platform www.sit2022.org.
What is so innovative in this startup?
"We are experts by experience,"
says Vittoria. "Hale supports sufferers in living better with this chronic pain, helping to manage and lessen the impact of pain on everyday life. It is a digital platform digital platform that creates guided and personalised psychology and sexology pathways. This type of support may in the future appear as 'digital therapy' and be prescribed by doctors like any medication, in countries such as Germany, where this is possible."
"Suffering from persistent pain in the genital area is an experience that has a strong impact physical and mental health.
Scientific research shows that most affected also suffer from anxiety, depression and other psychological disorders.
It is therefore essential to take care of them in order to improve one's quality of life,' adds Gaia Salizzoni, the other co-founder.
Gaia and Vittoria can bring digital and entrepreneurial skills to the table. Gaia has studied Innovation Management in Trento, while Vittoria, after graduating from unibz, worked as Project Manager at BASIS Vinschgau Venosta, Social Activation Hub. Today she is a student at the Master of Entrepreneurship and Innovation at unibz, directed by Alessandro Narduzzo, who also set up OISIS, the Observatory on Innovation and Social Entrepreneurship.
Hale is supported by the 'Startup Incubator' in Berlin to improve and launch the idea in an international context. And it won't have to wait long: the startup will launch the Beta version of its customised courses as early as October.
You can find Hale on Instagram or on its dedicated homepage
(vic)